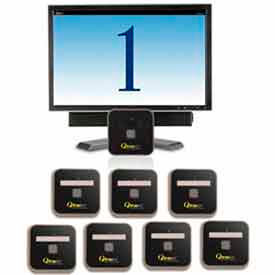 Qtrac Electronic Queuing Systems
Qtrac Electronic Queuing Systems
The ultimate single-line electronic queuing solution. QtracCF® optimizes customer throughput and increases service efficiency by streamlining the way agents hail customers. With a simple button-push on Qtrac's wireless remote, agents instantly alert the next waiting customer and effortlessly guide them to an open service position using both audio and visuals from the LCD display. Qtrac's wireless communication enables fast and easy installation - just plug it in and turn it on! Its self-contained architecture works independently from other networks, keeping proprietary information safe and secure.
Features
Promotional stills or video can play between queuing prompts to keep customers engaged.
Up to 6 different interrupt modes allow media to play full-screen, split screen, or picture in picture
Use the Qtrac LCD display or connect your own monitor.
Choose Qtrac's pre-installed alerts, voices, and images, or create your own.
View your configured set-up in real time before going live.
Wireless technology makes it easy to add or move station remotes – up to 99.
Wirelessly control numerous peripheral devices such as station lights or security doors.
Control up to 3 different queues from a single remote with a simple push of a button.