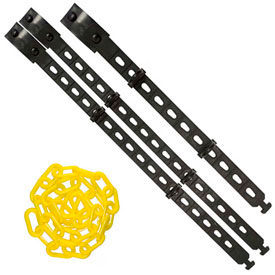 Connect-All Strap Kits
Connect-All Strap Kits

The Connect-ALL is made with a flexible strap that will fit around any shape bollard, pole, or post. Each Connect-ALL has two slide hooks that can be positioned 180 degrees apart to form a straight line or 90 degrees apart to create a corner. Use to connect 2" plastic chain to Bollards, Delineators, Post and more. Fits up to 11" diameter objects. Strap is thermoplastic elastomer. Available as Connect-All Strap only or Connect-All Strap kits that include straps and plastic chain.