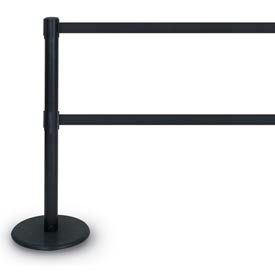 ADA Compliant Retractable Belt Barriers
Double Tape Posts Are Used For Guiding Patrons And Preventing Line-Cutting In A Variety Of Administrative Settings.

Posts feature two rows of belt tape with first row at 36-1/2 off the ground and the second at 18-1/2 , allowing visually-impaired persons to detect it with a cane or seeing-eye dog. Self-reeling polyester belt tape glides easily and locks smoothly into the next post's slot. Posts are made from extruded aluminum. Posts measure 38-1/2 high and 2-1/2 wide with a base measuring 13-7/8 in diameter. Belt tape is available in a variety of colors. Choose from lengths of 7'3 or 12'6 . Black or Chrome posts are available. ADA Compliant.