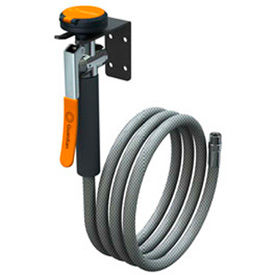 Guardian Equipment Drench Hoses
Guardian Equipment Drench Hoses Spot Rinse Injured Workers' Eyes, Face Or Body.

Guardian Equipment Drench Hoses have spray heads with flip top dust covers, internal flow controls and filters to provide continuous flow of cleansing water. Drench hose units connect directly to existing plumbing for a dependable permanent water supply. Manually operated for ease of use in emergencies. Forged brass squeeze valve is activated by a stainless steel lever handle for reliable performance. Durable 8' PVC hose provides 30 GPM at 30 PSI for uninterrupted flow. Types are Drench Hose or Eye Wash and Drench Hose. Available installations are Wall Mount or Deck Mount. Meets applicable ANSI Standards.