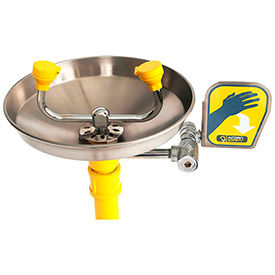 Acorn Safety Eye Wash Stations
Acorn Safety Eye Wash Stations Provide Eye Protection and Safety For Hospitals, Laboratories, Warehouses, and more.
This Acorn Safety eye wash is designed to flood your eyes with streaming water to rinse out contaminants, chemicals, debris, and other irritants. The ABS plastic eyewash spray heads release high pressure water in the upward direction to thoroughly rinse out your eyes. The eye wash stations are made of steel and plastic for strength and dependability. Some models include an inline strainer, a push handle, and bowls. ANSI compliant.
Eyewash spray heads
Steel and plastic construction
Mounting styles are Deck Mounted/Left, Deck Mounted/Left 90°, Deck Mounted/Right, Deck Mounted/Right 90°, Pedastal Mounted, and more
Activations are Push Handle, Swing, and Swivel