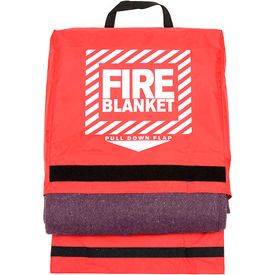 Emergency Fire Blankets
Emergency Fire Blankets Feature a Sturdy Insulating Blanket For Comfort and Safety.

Blankets are purposed for covering victims in shock or rescue personnel needing a warm, comfortable retreat. Fire Blankets & Cabinets are available in Roller style & Drop style.The blanket is 62" x 80" and made of wool/ synthetic material. Woolen Fire Blankets feature durable insulation at its core surrounded by a 70/30, synthetic/wool blend that retards fire and heat. Available with or without nylon pouch with easy open, pull down flap. Dimensions vary per model.