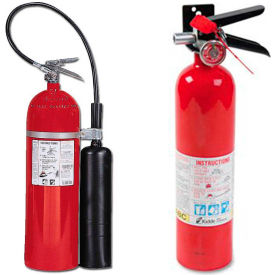 Kidde Dry Chemical & Carbon Dioxide Extinguishers
Kidde Fire Extinguishers Expel a Steady Stream of Fire-Suppression Chemicals to Control Small Fires for Safety and Protection.

Dry Chemical Fire Extinguishers contain mono-ammonium phosphate which are used for class A, B and C fires. The seamless aluminum and steel cylinders have a durable chip resistant epoxy finish and come with a strong aluminum valve body. Reliable pressure gauge for easy pressure checks. Fits all standard cabinets. Comes equipped with a wall hanger. Includes 6 Year Limited Warranty.

Carbon Dioxide Extinguishers are effective for B and C class fires. CO2 gas dissipates quickly leaving no residue. Seamless aluminum cylinder. Long lasting nickel and chrome plated brass valve with stainless steel handle and lever. Includes a heavy duty wall hanger. Includes 5 Year Limited Warranty.