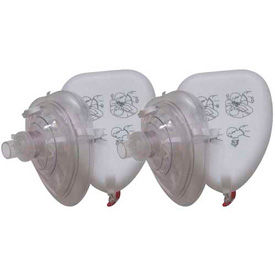 CPR Masks and Training
CPR Masks and Training Support the Respiratory Training for Medical, Emergency Services, Educational, and Other Related Applications.

CPR masks and training units prevent mouth-to-mouth contact with victim for cross contamination prevention and safety. Transparent dome allows high visibility for lip color, secretions, and more. Mask is ready to use with no assembly required for speed and efficiency. Includes one-way valve with filter. Available styles include Adult Bag Valve Mask, Adult/Child CPR Mask, CPR Barrier, CPR Barrier/Gloves Keychain Kit, CPR Barrier Keychain Kit, CPR Board, CPR Mask in Clam Shell Case, CPR Mask w/ 02 Inlet, and more. Kits have 10 or 11 pieces.