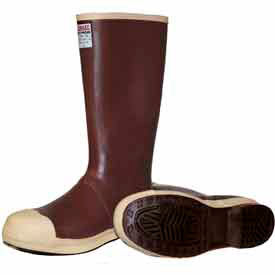 Tingley® Dipped Neoprene Snugleg Boots
Tingley® Dipped Neoprene Snugleg Boots are used for Tough Industrial Environments.

These neoprene Snugleg Boots are dipped with a neoprene coating and sealant, so the foot is surrounded by a layer of 100% waterproof and chemical resistant neoprene for optimum protection and extraordinary comfort. The boots are made with a multi-ply manufacturing method so they are ideal for industrial environments in food processing - particularly red meat and dairy, chemical, petrochemical - particularly exploration and production. Chemical resistance to animal fats and blood, oils, certain acids, alcohols, alkali and certain solvents. Types are Plain Toe or Steel Toe. Outsole design is Chevron or Safety-Loc. Boot heights are 12-1/2" and 16". Color is Brick Red/Brown. Sizes range from 5-15.