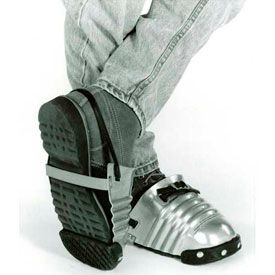 Strap-On Foot and Shin Guards
Protective Aluminum Strap-On Foot Guards Provide Protection To Foot-Instep For Construction And Industrial Environments.

Foot guards are made of aluminum alloy, polyethylene plastic, 16 gauge carbon steel or thermo-foam plastic for long lasting durability. Foot guards are metal shields worn over shoes to provide maximum protection due to falling, rolling, flying objects or accidental tool blows. Guards withstand an impact of 75 foot pounds. Available styles areFoot Guards, Foot-Shin Guards, Foot-Shin Guards with Side Shield, Knee-Shin Guards, Knee-Shin-Instep Guards, Metatarsal Guards, Metatarsal Guards without Laces, Shin Guards, Shin-Instep Guards and Strap-On Foot Guards. Available types are Full Rubber Sole, Lightweight, Rubber Toe Clip, Sponge Pad, Steel Toe Clip and Unisex. Available sizes are Extra Large, Large, long, One Size, One Size Fits All, Short and Standard. Widths available are 4-6-1/2". Meets ANSI-Z41 Standards.