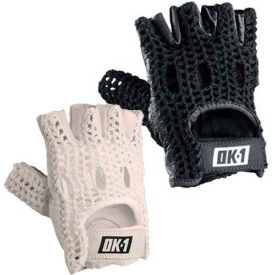 OccuNomix Handler & Lifter Gloves
OccuNomix Handler And Lifter Gloves Provide Extra Grip And Traction For Confident Lifting.

OccuNomix Handler And Lifter Gloves come in a variety of styles for increased versatility. Styles are made with leather palm with foam padding and breathable spandex mesh at back of hand. Full coverage, anti-slip material on the palm provides extra grip. Some styles also have extended wrist support w/hook and loop closure or polyurethane web area, a terry cloth thumb, a neoprene knuckle area and stretch nylon for the back of the hand. Synthetic leather palm is infused with silicone for extra gripping. Used for package handlers, delivery professionals, warehouse and line workers. Available styles include Classic Cool Lifter Gloves and Classic Knuckle Lifter Gloves. Open mesh on the back of hand that allows for superior air circulation. Sizes range from S-2XL. Available colors are Black or White.