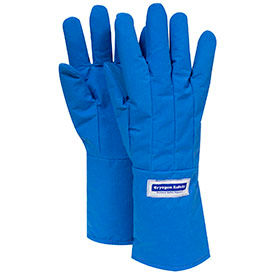 Water Resistant Cryogenic Gloves
Water Resistant Cryogenic Gloves Provide Cold Temperature Hand Protection For Laboratories, Medical Facilities, Industrial Settings, and more.

These gloves create an added layer of protection against cold and moisture for multiple environments. The liner creates a barrier for heat comfort and control. Includes knit wrist cuffs for support. Lengths are 12", 15", 18", and 26". Color is Blue. Available sizes are S, M, L, and XL.