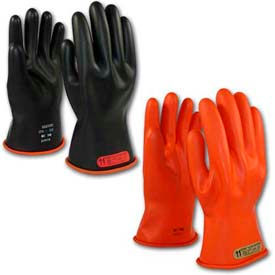 Electrical Rated Gloves
Electrical Rated Gloves Reduce Hand Fatigue for Workers in Electrical Hazard Environments.
The natural rubber constructionoffers the required dialectic properties combined with flexibility, strength and durability. Tested to meet ANSI/ASTM D120 Standard and NFPA 70E for use around Electrical Hazards and Arc Flash protection.
Materials are natural rubber, Novax rubber w/or w/o insulation, and rubber
Cuff styles are contour, rolled, and straight/rolled
Classes are 00, 0, and 1-4
Meets ANSI/ASTM D120 Standard and NFPA 70E
Colors are black, orange, and black/orange.
Sizes range from 7-12.