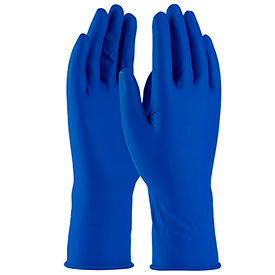 Extended Cuff - Latex Disposable Gloves
Extended Cuff - Latex Disposable Gloves Provide Hand Protection for Medical, Laboratory, and Other Related Applications.

The extended cuff and powder free style provides liquid proof protection for emergency medical uses and more. Style 62-327PF meets the emergency medical glove requirements of NFPA 1999 Standard on Protective Clothing for Emergency Medical Operations, 2003 Edition. Thicknesses are 13 or 14 mil. Cuff lengths are 11-1/2" and 12". Fully textured palm and finger grip provide superior dexterity. Gloves are ambidextrous for convenience. Powder and Powder-free styles available in smooth or textured finishes. Sizes are S-XL. Colors are blue and dark blue. Sold in package quantities of 50 or 500.