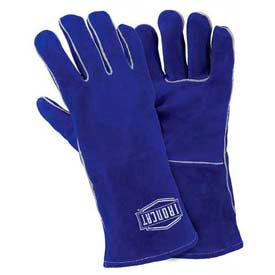 Ironcat Welding Gloves
Ironcat Welding Gloves Provide Excellent Protection In High Heat Welding Conditions.

Ironcat Welding Gloves are made of 100% leather and other high quality materials for long lasting durability. Variety of styles available to provide lightweight, medium weight or heavy weight hand protection. Premium top grain kidskin provides tight fit with dexterity necessary for TIG welding. Soft leather allows wire to pass freely over glove. Cuffs protect hands and lower arms from burns. Variety of types and styles available to meet hand protection requirements. Sizes are S, M, L and XL. Colors are Blue, Bourbon Brown, Brown, Gold, Golden Brown, Gray, Ivory, Natural, Pearl and Yellow. Package quantities are 6 Pair, 12 Pair and 24 Pair.