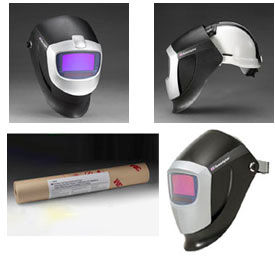 3M™ Welding Helmets and Accessories
3M™ Welding Helmets and Accessories Provide Complete Protection From Welding Spatter And Grinding Sparks In Industrial Plants, Workshops And Factories.

3M™ Welding Helmets are solidly constructed for long lasting durability and dependability. Auto-darkening filter on helmet top provides maximum visibility for the welder. Protective eye and face shield is clear to ensure precision grinding and cleaning. Aerodynamically-designed vents help exhaust exhaled air and reduce stuffiness inside the welding helmet. shade range is 5, 8-13. Welding Helmets are available with HE Filter, Side Windows, Auto-Darkening, Safety Shades and more. Colors are Black, Black/Silver and Black/Purple.