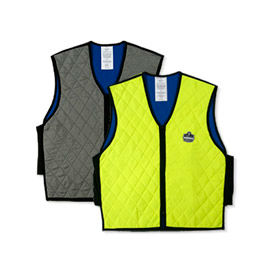 Chill-Its® Evaporating Cooling Vests
Chill-Its Evaporating Cooling Vests Provide Heat Stress Protection For Warm Weather or Outdoor Workers.

Evaporating cooling vests reduce heat exhaustion across the upper body. V-neck with zipper closure allows sealing pressure adjustment. Available Cooling Technology is Dry Evaporative, Evaporative, and Wet Evaporative Lightweight, flexible material allows easy fold-up storage. Most units soak in cold water to offer cooling relief. Cooling vest technology and additional specifications vary per model.