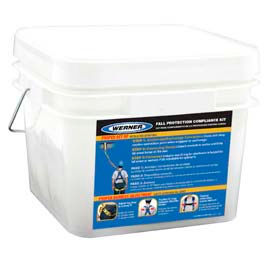 Werner® Fall Protection Kits
Werner® Fall Protection Kits wrap around structures to provide secure anchor point for Fall Protection Applications.

Werner® Fall Protection Kits are made with durable polyester webbing, steel and poly-dac to provide long lasting durability. Cross arm straps wrap around structures for secure anchor point. Anchors feature a D-ring sized to pass through an web loop for convenient, quick, and easy anchor solutions. Available styles include Aerial Kit, Aerial/Maintenance Kit, Construction/Maintenance Bucket, Roofing Bucket, and Roofing Duffel Bag Kit. Types are Aerial Lift Kit, Construction/Maintenance, and Roofer's Kit. Connection types are Pass-Through and Tongue Buckle. Weight capacity is 310 lbs.