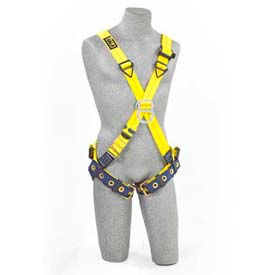 DBI/SALA® Delta™ Harnesses
DBI/SALA Delta™ Harnesses are designed for Comfort, Reliability snd Safety During Use.

DBI/SALA Delta™ Harnesses are made of Nomex/Kevlar blend, polyester and nylon materials to provide long lasting durability. No-Tangle design provides wearer convenience for putting on or taking off. Variety of styles available including Arc Flash Construction Style Positioning, Crossover Positioning /Climbing, Nomex/Kevlar Harness, Blue cotton Workvest, Chair Harness, Hi-Vis Reflective Workvest, Oil and Derrick Harness, Vest Style Iron Worker Harness and more. Available with or without belt. Sizes range from S-2XL and One Size. Weight capacity up to 420 lbs. Available colors are Black, Black/Yellow, Yellow, Blue, Black/Orange/Yellow, Orange/Yellow, Yellow/Navy, Yellow/Gray and Hi-Vis Orange or Yellow. Dimensions vary per model.