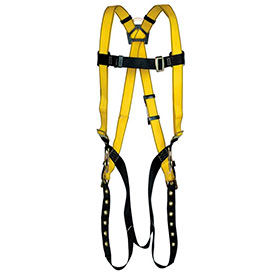 Safety Works Fall Harnesses
Safety Works Fall Harnesses Provide Full Body Fall Protection For Construction, Industrial, General Industry, and Other Safety Required Applications.

These full-body harnesses with straps are designed to evenly distribute fall impact over the thighs, waist, chest, shoulders, and pelvis. The harnesses are available in 1 D-Ring for connector/rescue attachment or 3 D-Ring with hip rings for hands-free work. The lightweight components and durable webbing provide user comfort while ensuring secure protection. The yellow/black color finish improves visibility for added safety and security. Includes a 400 lb. weight capacity for reliable worker and equipment support. Extra-large size is available for larger personnel. Optional vest-style harness and web retainer collars are available. ANSI and CSA certified.