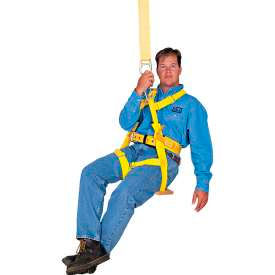 DBI-SALA® Workseats and Slings
DBI-SALA® Workseats and Slings Provide Comfort, Safety And Protection When Used With A full Body Harness.

DBI-SALA® Workseats and Slings are made of 1-3/4 in. (4.4 cm) polyester web with corrosion resistant hardware for long lasting durability and dependability. Designed to provide comfort and support in seated position while suspended. Models available with or without belt. For use with full body harnesses and fall arrest system. Integral front D-ring provides safe, compatible connection point for suspension line offering good balance. Large nylon covered foam cushion adds comfort for long periods of suspended work. Small snap hook attaches to seat board sides for attaching tools and equipment. Used for long periods in outdoor elements including sun exposure without tearing or fraying. Extra webbing at seat contact areas provides added abrasion resistance. Allows strong, fast and safe connections. Soft sling seat also available. OSHA 1910.66, OSHA 1926.502 approvals. Types are Rigid Board Seat, Rigid Board Seat w/Belt and Soft Sling Seat. Sizes are XS, S, M, L, XL and Universal. Capacity is 310 lbs.. Color is Yellow. Package quantity is 1.