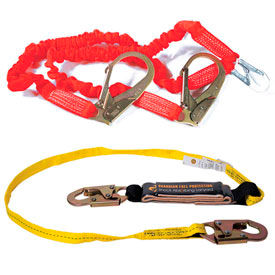 Guardian Fall Lanyards
Guardian Fall Lanyards Provide Fall Protection For Applications Including Construction, Industrial, Commercial, and more.

Guardian fall lanyards lengthen full-body harness dorsal D-ring, allowing attachment ease. Snap hook component attaches to dorsal D-ring, and extension lanyard D-ring becomes new harness connection point. Units allow convenient harness dorsal D-ring access and attach a shock absorbing component to lanyard for incompatible fall arrest applications. Available types include Snap Hooks, Rebar Hooks, and more. ANSI approved. Dimensions vary per model.