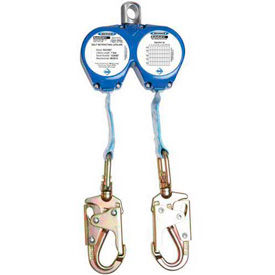 Werner® Self-Retracting Lifeline Systems
Werner® Self-Retracting Lifeline Systems Provide Safety And Security For Fall Protection.

Werner® Self-Retracting Lifeline Systems are designed and manufactured for the most demanding fall protection applications. Webbing and impact indicators allow for easy inspection. 5-point adjustments provides optimal fit. Lightweight hardware and pads, and bright colors provide worker visibility and additional safety. The back pad is large enough to protect user's back, and is padded to absorb sweat increasing wearer comfort and to prevent tangling when donning the harness. Shoulder pads provide additional user comfort. The rear dorsal D-ring is made from high quality forged alloy steel for strength and durability. Hip D-rings for positioning applications. Removable body belt provides tool carrying capabilities. Quick connect chest and leg buckles provide fast and easy connections. Available styles include Max Patrol Self-Retracting Lifeline and AutoCoil2 Self Retracting Lifeline. Available with 1 or 2 legs. Lengths are 7, 10, 11, 20, 30 and 60 feet. weight capacities are 310 lbs and 400 lbs. Cable materials are Polyester Webbing, Stainless Steel and Galvanized Steel. Available colors are Blue and Black.