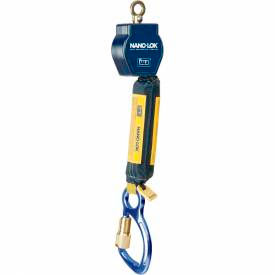 DBI-SALA® Self-Retracting Lifeline Systems
DBI-SALA® Self-Retracting Lifeline Systems Ensure Fall Prevention for Maintenance, Bridgework, Construction, and Other Worksites Requiring Maximum Safety and Protection.

Systems are made of high quality materials for strength, long lasting durability and dependability. Vast selection of lifeline systems available offering safety and protection to meet job requirements. Types are Blended Rope, Cable, Single Lifeline, Double Lifeline, Synthetic Rope and Twin Lifelines. Available lengths from 6 ft. up to 330 ft.. Capacities are 310 lbs., 350 lbs. and 420 lbs.. Available colors include White, Silver, Navy, Black, Blue, Hi-Vis Orange, Blue/Black/Yellow and more. Dimensions vary per type. Package quantity is 1.