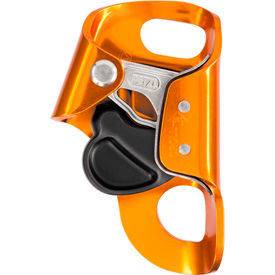 Rope Grabs and Clamps
Rope Grabs And Clamps Provide Fall Protection For Applications Including Construction, Industrial, Commercial, And More.

Rope grabs and clamps are made of high quality materials for long lasting durability and dependability. Units accompany user in all movements without manual intervention. During shock or sudden movement, fall arrester locks rope and halts user. Integrated locking function immobilizes device to reduce fall length. Connection arm provides loss-resistance when passing intermediate anchors. Available types include Cable Grab, Carabiner, Fall Arrestor, Flexible Cable Ladder Safety, Manual Rope Adjuster, Manual Rope Grab w/ Shock Absorbing Lanyard, Pulley Rope Clamp, Pulley Rope Grab, and more. Weight capacity ranges from 300 to 900 lbs. Colors are Black, Bronze, Bronze/Yellow, Galvanized Steel, Gold, Gray, Navy/Yellow, Orange, and more. Dimensions vary per model.