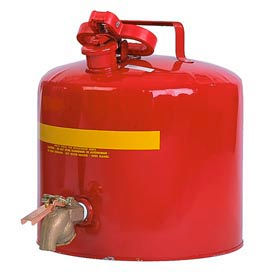 Eagle Faucet Safety Cans
Eagle Faucet Safety Cans Help Control Dispensing Of Flammable Liquids Into Small Capacity Vessels Using A Drip-Free Faucet.

Deep drawn seamless steel for strength. Non-sparking flame arrestor and pour spout for safety. Includes a spring closing lid with Neoprene gasket vents. 5 gallon capacity. Choose between Galvanized or Stainless Steel. Meets OSHA requirements and NFPA code 30. FM approved.