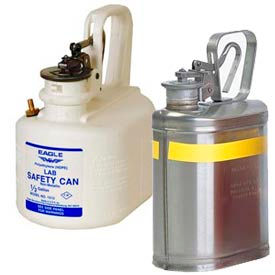 Eagle Laboratory Safety Cans
Eagle Laboratory Safety Cans Reduce The Danger Of Explosions Resulting From The Ignition Of Vapors Of Flammable Liquids.

Deep drawn seamless steel for strength. Non-sparking flame arrestor and pour spout for safety. Includes a spring closing lid with Neoprene gasket vents. Choose between Powder Coated Galvanized Steel, Stainless Steel or High Density Polyethylene for safe storage and handling of most chemical compounds. FM approved.