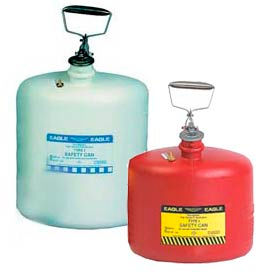 Eagle Poly Type I Safety Cans
Eagle Poly Safety Cans Are Impervious To Many Liquid Chemicals, Acids, Caustics, Solvents And Corrosives To Help Reduce The Danger Of Explosions.

Made using high density polyethylene for dent and puncture resistance. Corrosion resistant stainless steel fittings and flame arrestors for safety. Includes brass grounding connectors. Meets OSHA requirements and NFPA code 30. FM approved.