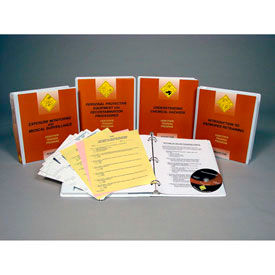 MARCOM HAZWOPER Series Safety Training CD/DVD
MARCOM HAZWOPER Series Safety Training DVDs Help Facilities Comply With OSHA's HAZWOPER Regulations.

MARCOM HAZWOPER Series Safety Training DVDs or CD-Roms will help inform and train employees about specific levels of involvement with a variety of employee related safety subjects. Instructional DVDs cite appropriate use of personal protective equipment (such as chemical protective clothing) as well as how to remove contaminants that accumulate on clothing and equipment. Audio, full-motion video, text. kits and colorful graphics provide a cost-effective safety and regulatory compliance training. Designed with the training manager in mind, all courses include a learning management system (LMS) at no additional cost and a comprehensive User and Trainer Guides. More than 30 subject matter training DVDs or CD-Roms available. DVDs and CD-Roms run times range from 41 minutes - 40 hours.