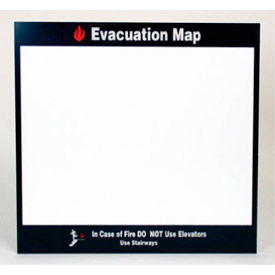 Evacuation Map Holders
Evacuation Map Holders Accommodate Fire Safety Products For Offices, Facilities, Warehouses and more.

Evacuation map holders are subsurface printed with non-glare finish for optimal display and lasting durability. Customized evacuation maps can be printed and inserted. Holder protects and displays map. Units include 3 mounting strips. Holder measures 11 H x 11-1/2 W and holds 8-1/2 x 11 insert. Available Descriptions are Evacuation Map Holder and Evacuation Map Holder with Photoluminescent Lettering. Additional specifications vary per model.