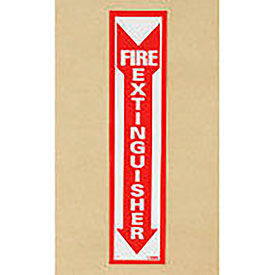 Fire and Emergency Situation Signs 
ACRYLIC FIRE SAFETY VISIBILITY SIGNS
FIRE EXTINGUISHER
Fire safety signs project from the wall at a 45º angle for clear viewing from all directions. Visibility safety signs provide an alternative to flat signs by standing out from the wall, allowing viewing from multiple directions. Fire signs are made with .125 mil thick acrylic with a polished finish. Perfect for all indoor architectural applications. Safety signs feature pre-drilled mounting holes for easy installation. Meets OSHA 29 CFR 1910.157 requirements & NFPA 101 Life Safety Code.