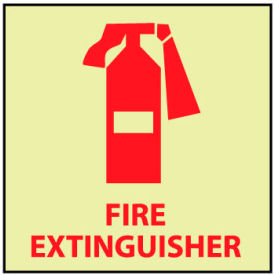 Glow - Fire Extinguisher Signs
Glow - Fire Extinguisher Signs Provide Industrial Areas In Need of Fire Safety Equipment Identification.

Glow - fire extinguisher signs feature large text and easily understood graphics to increase first glance comprehension. Select signs comply with OSHA and NFPA requirements. Signs do not require mechanical or electrical power source. Some models provide an illumination duration of 6+ hours and meet OSHA and ASTM requirements. Available constructions are Acrylic, Plastic, and Vinyl. Dimensions and additional specifications vary per model.