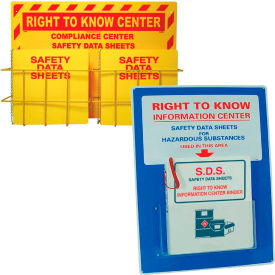 Right To Know, SDS and GHS Wall Mount Centers And Binder Holders
Right To Know, SDS, and GHS Wall Mount Centers and Binder Holders Store Safety Information For Industrial, Manufacturing, and Commercial Environments.
Right-To-Know and SDS Signs GHS wall mount centers and binder holders provide easy access to important safety documents and emergency information. Wall mount centers store binders can be mounted to multiple locations for convenient access. Binder holders are designed to
neatly store and organize data sheets for easy designation display.
Most units feature high level materials for durability and corrosion resistance. Bright color options provide high visibility in dark environments. Additional specifications vary per model.
Various location mounting
Data sheet organization
High quality construction
Bright color options