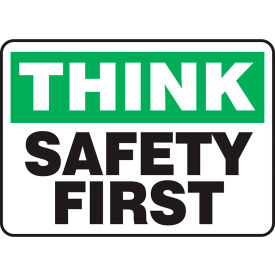 Safety Culture Signs
OSHA SIGNS
"Think" Informational Signs – "Be Alert Don't Get Hurt" – Pressure Sensitive Vinyl
These signs are used to create a safer workplace by making employees remember safety! Large black text on a white background creates maximum visibility. The thick green bar with the word "THINK" on it is used to catch the attention of employees and visitors alike. Pressure Sensitive Vinyl signs adhere to both flat and curved surfaces.