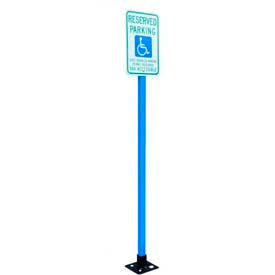 X-Tube Parking Lot Sign System
X-Tube Parking Lot Sign System Offers A Safer Walk Against Traffic For School Children and Other Pedestrians.

X-Tube parking lot sign system consists of a 78" highly impact-resistant plastic upright with handicap sign attached and a thermoplastic injection molded one piece base. 1-3/4" diameter upright is available in bright Blue or White color, UV stabilized with no cross members and pre-drilled holes for sign and base. One-piece design base has no welds and is flexible to allow for rebound rather than bending. Thermoplastic construction is rust resistant. Additional specifications vary per model.