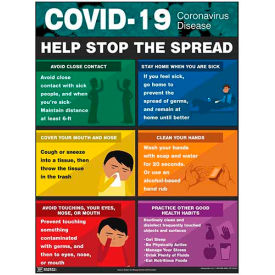 COVID-19 Informational Posters & Signs
COVID-19 Informational Posters and Signs Designate Quarantined Areas and Remind Public of Ongoing Health and Safety Standards For Contagious Viruses.

COVID-19 Informational Posters and Signs offer strong reminders to public on how to keep infectious viruses such as COVID-19, from spreading. Informational posters and signs include notices about washing hands after being in contact with an area or item that could transmit diseases to others. Enlarged lettering, icons, and bright finish increases unit visibility at long distances. Colors, dimensions, messages, and additional specifications vary per model.