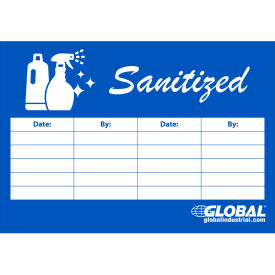 Global Industrial™ Sanitized Signs
Global Industrial™ Sanitized Signs Provide Easily Accessible Logs For Workers and Employees to Maintain Organized Cleaning Schedules.

Sanitized Signs are designed for bathrooms, offices, desks, and other high touch surfaces where strict cleaning routines are required. Some units feature a large and labeled grid layout for repeatable time stamping. Large text and easy-to-understand graphics present clear purpose and direction. Dimensions and additional specifications vary per model.