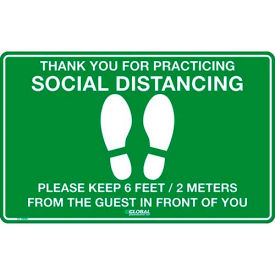 Social Distancing Floor Signs
Social Distancing Floor Signs to Advise and Remind Public of Social Distancing Standards For Hallways, Lobbies, and Other Hard Surface Industrial Floors.

Social Distancing Floor Signs are easy-to-apply on surfaces to inform and remind to maintain safe distances and interactions for businesses, schools, and other locations. Each signs offer easy and quick way to transform businesses or organizations. Available Sign Shapes are Circle and Rectangle. Contrast color and enlarged lettering are easy to spot at distances, making them suitable for long lines and hallways. Dimensions and additional specifications vary per model.