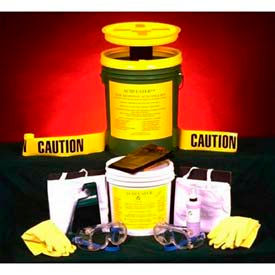 Chemical Neutralizing Kits
Chemical Neutralizing Kits Contain, Absorb, Neutralize and Solidify Spills for Maintenance Ease and Safety.
More.
Chemical neutralizing kits are made of plastic for long lasting durability and dependability. Units include gloves, goggles, boot covers, disposal bags and more for operator protection and stability. Available styles include
Acid Absorber/Neutralizer Spill Kit, Acid Neutralizer Spill Kit, Ammonia Neutralizer Spill Kit, Battery Acid Spill Kit, Caustic Neutralizer Spill Kit, Fuel Eliminator Refill Kit and more.
Absorption capacities range from
1.25 to 35.27 gal.
Package quantity is
1.
Pail colors are
Black, Blue, Green, Red, White and Yellow.
Dimensions vary per model.
❮Top
X
Global Assistant
X
Global Assistant