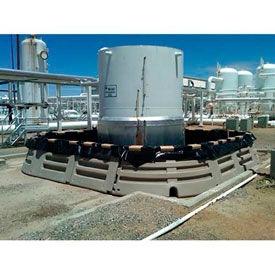 Enpac Stinger PolyBerm Containment System
Enpac Stinger PolyBerm Containment System
The Stinger Polyberm combines the portability of a flexible containment berm with the strength and durability of molded plastic walls to provide a hybrid secondary containment option for large volume storage. Ideal for storing large tanks, vehicles, or bladders while maintaining compliance and protecting the environment. Setup is simple and all of the necessary hardware is included for fast installation.1',2',3', and 4' tall sidewall options and custom sizes available from Enpac, call to inquire.
Features
Provides ample storage for tanks and transformers with sidewall.
No excavation or anchoring required.
Lightweight, modular design can install with as few as two people.
Includes sidewalls and a chemically resistant, durable liner.
Can be used as a permanent structure, or easily disassembled and transported.