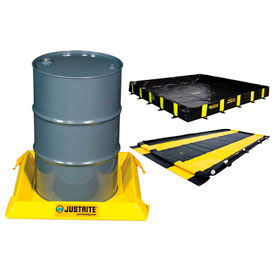 Justrite Spill Containment Berms
Justrite Spill Containment Berms Provide a Portable, Versatile Method for Emergency Spill Response.

Spill Containment Berms quickly contain minor spills and leaks during temporary storage, machine parts, equipment. and more. Berms simply unfold to use. The encased urethane foam sidewalls offer easy roll-through access without the need for a ramp. Walls quickly spring back into place with no memory loss. Lightweight PVC and tough vinyl coated fabric provides broad UV and chemical resistance that withstands repeated use. Berms can be anchored in place using brass grommets in each corner. Anchor stakes not included. Helps comply with EPA for spill prevention (SPCC). Reinforced inside supports reduce sagging and prevent tripping hazards that can be caused by outside supports. Lightweight berm folds down easily to a small size for storage in trucks, emergency vehicles, and spill kits. Types include 2-Zone, 3-Zone, 4-Zone, Maintenance Spill Berm, Quickberm, Rigied-Lock Quickberm, Washdown Quickberm, and more. Capacities range from 5 to 5998 gallons. Available colors are Black or Yellow. Dimensions vary.