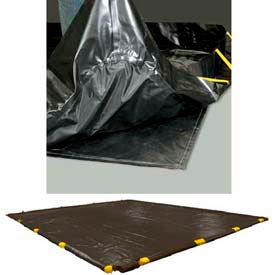 Stinger Spillpal™ Berms
Stinger Spillpal™ Berms And Accessories Are Used For Commercial Or Industrial Safety And Spill Control And Containment Applications.

Stinger Spillpal™ Berms And Accessories offer containment from smaller leaks and spills. Berms are made of heavy duty industrial fabric and other durable materials for long lasting use and dependability. Removable Sidewalls have sturdy construction and secure drive in and out capability. Available styles include Dripillow Berm Replacement Pads, Dripillow Berm w/Pad, Economy, Ground Pad, Heavy Duty, Off-Road Dripillow Berm -w/ or without Replacement Pads, Poly-Spillpad, Standard, Stinger Rail Berm, Tacmat and Tramcar. Available in lengths ranging from 1-13/16 ft. to 54 ft. Widths range from 1-13/16 ft. to 85.. Berns provide excellent protection from harsh chemicals and liquids. Easy-to-assemble design. Compact for easy storage and transport. Colors include Black, White, Yellow and Tan.