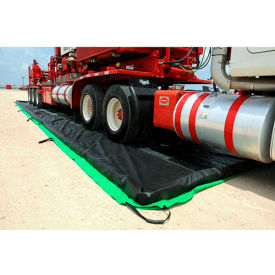 UltraTech Foam Wall Berms
UltraTech Foam Wall Berms Contain Leaks and Spills From Various Equipment Including Vehicles, Tanks, Drums, and more.

UltraTech foam wall berms are low profile in design to allow convenient equipment maintenance and portable drum containment. Berms units are constructed of PVC or copolymer 2000 for lasting durability endurance and chemical resistance. Low sidewall contains spills while preventing floor contamination. Select models include berms only. Compact, folding design reduces unit footprint and allows convenient storage options. Most models are economical in design for quick setup and deployment. Most units meet SPCC and EPA container storage regulations. Gallon capacities and dimensions vary per model.