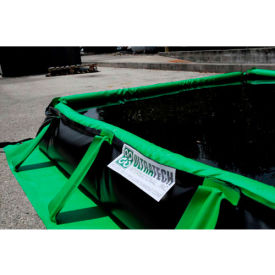 UltraTech Rapid-Rise Containment Berm
UltraTech Rapid-Rise Containment Berm Ensures Spill Containment For Maintenance, Shipping, Agricultural, and Other Related Applications.

These berms feature a perimeter foam ring that rises with the spillage level for containment ease. The sidewalls remain lowered allowing convenient vehicle exit and entry from any angle with no assembly or disassembly required. The copolymer 2000™ construction is strong and impact resistant for years of reliability. Custom sizes are available. Meets SPCC and EPA container storage regulations. Types, dimensions, and gallon capacities vary per model.