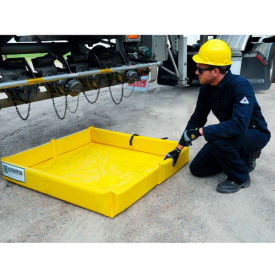 UltraTech Ultra-Mini Foam Wall Berms
UltraTech Ultra-Mini Foam Wall Berms Provide Efficient Spill Containment For Maintenance, Waste Management, Distribution, and Other Related Applications.

The wall berms are designed to contain smaller leaks and spills for fuel transfers, batteries, compressors, drums, and other containers and equipment. The compact size and foldability allows the berms to be easily stored and transported. The foam sidewalls support vehicle/equipment exit and entry while ensuring spill containment. The heavy-duty PVC construction provides impact and chemical resistance making it useful for various working environments. Gallon capacities and dimensions vary per model.