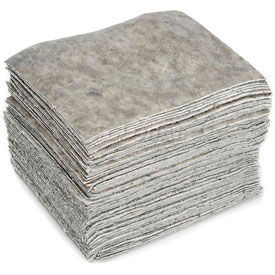 Spill Absorbent Pads
Spill Absorbent Pads Offer Convenient Spill Maintenance For Factories, Automotive Garages, Emergency Services, and Other Related Environments.

Spill absorbent pads are designed to absorb aggressive and non-aggressive fluids. Units may be suitable around machinery, under leaky pipes, and for general maintenance projects as a preventative maintenance measure. Pads feature high quality materials for lasting strength and endurance. Fluids absorbed include Chemical, Hazmat, Universal, and more. Absorb weight options are Light, Medium, Heavy, and more. Available colors are Gray, Green, White, and more. Package quantities and dimensions vary per model.