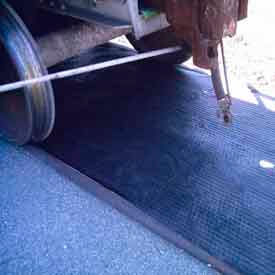 Railroad Track Oil Absorbent Mats
Rail Road Track Oil Absorbent Mats Are Used For Use As Railroad Track Mats When Refueling Locomotives Or Greasing Rails Or As At-Ready-Station Sites.

Rail Road Track Oil Absorbent Mats are coated spunbond oil-only mega weight rolls that repel water and absorb oil and hydrocarbon-based fluids. Top layer is UV-resistant, the center layer is highly absorbent and the bottom layer prevents diesel fuel, oil, and other hydrocarbon-based fluids from contaminating or leeching into the soil and ballast. Available in 42, 50, 57.6, 60, 63, 86.4 and 88 gallon absorption capacity packages. 100 foot length rolls come in 19, 29, 57 and 59 inch widths.