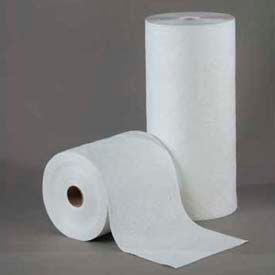 Spill Absorbent Rolls
Spill Absorbent Rolls Ensure Spill Protection and Maintenance for Industrial Facilities, Automotive Repair Shops, General Workshops, and Other Related Areas.

These rolls are designed to absorb and contain spills, leaks, and drips of multiple fluids including water, oil, fuel, coolants, and other hydrocarbon-based liquids. The polypropylene construction provides strength and impact resistance for harsh working conditions. The thin design supports areas near and around machinery, conduits, piping, and more. Available types include Fluid Strip Control, Pads, Perforated, Roll, Roll Rack, and more. Colors are Black/White, Black/Red/Yellow, Blue, Camouflage, Gray, Green, and more. Package quantities are 1 and 2. Dimensions vary per model.