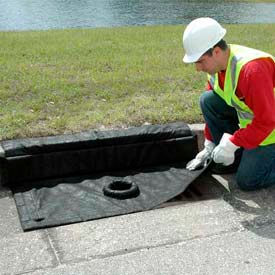 Ultra-Inlet Guard Plus®
Ultra-Inlet Guard Plus® Protects Drains And Inlets During Industrial Or Commercial Projects.

Guard Plus is constructed of rugged geotextile material for strength and long lasting durability. Keeps dirt, sand, sediment, trash and debris out of drains and inlets without the need to lift grates. Built-in magnets allow for quick and easy installation. Low profile design can be driven over for increased dependability and is unobtrusive to traffic and personnel. Built-in overflow port helps prevent flooding and ponding during heavy rainfall. Available in styles Standard and Curb-Style in 24" lengths and widths 24"-48".