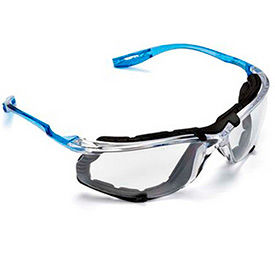 3M™ - Foam Lined Safety Glasses
3M™ - Foam Lined Safety Glasses Provide Ocular Safety and Protection For Multiple Working Environments Including Construction, Industrial, Manufacturing, and more.

These glasses provide high impact vision safety and protection against dust, debris, UV rays, and more. The cord control system is designed to keep a corded earplug attached, untangled, and ready for use. The foam gasket limits eye exposure to airborne contaminants while providing additional cushioning comfort. Anti-fog, anti-scratch, and hard-coat features available. Lens colors are Clear and Gray. Frame colors are Blue and Black. Package quantity is 20. ANSI and CSA approved.